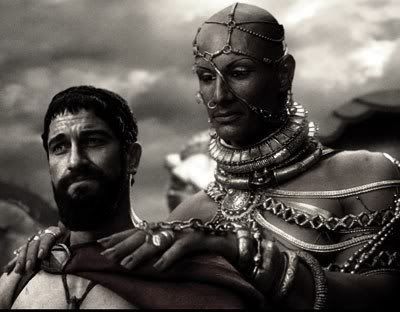 Brother MJ made a huge splash yesterday, both with the very beginnings of his coast to coast musical
road trip
(first stop: California!) and his late night
ruminations
on the film 300.
An alert and a confession:
The A: The links to all bands "Cali" have been fixed... so if you tried to visit WHY? yesterday and couldn't, click again! And if you didn't, well... this is your second chance.
The C: I really liked 300. I really, really liked 300. My bus ride home was pretty much one big Yours-Truly-As-King-Leonidas daydream.
-----------------
ME - "Well, it looks like I'm off for tour!"
THE GIRLFRIEND - "Spartan. Come back with your shield... or on it."
ME - "You got it, dear."
**The camera pans as I turn to get into the van**
THE NARRATOR - "Goodbye my love" - He doesn't say it. There's no room for softness, not in Sparta. No place for weakness. Only the hard and strong may call themselves Spartans. Only the hard... only the strong.
**Music swells as I lean out the window and wave goodbye**
ME - "See ya! I'll call you tonight!"
-----------------
Right.
And if you haven't caught the film yet, this ought to get you up to speed (in a less conventional way):
You can't tell me Golden Delicious wouldn't have pulled out the victory.
And now this post is about to spiral out of control.
Rembrandt Brown. Quinn Mallory. That one chick. Professor Maximillian Arturo.
Sliders!
They went to different dimensions! They met different versions of themselves! This happened every Friday night at eight o'clock. I was thirteen. It was perfect. What I wasn't expecting, though, was to receive my own trans-dimensional message from a concerned me yesterday (keep following, I promise this will work out).
From my inbox:
"Dear Bret, don't be alarmed. It's you! Or me! A fellow Bret from a parallel world - one in which, instead of joining a band, you built a failed anti-gravity device in your basement that unlocked a multitude of dimensions. I tumbled through a portal with a few of my friends and have been on this adventure since. I come here with a warning. The last Earth we visited had been rotating 22 more years than the Earth you or I are accustomed to. I took a video of the you we could become if left unchecked... it is not for the faint of heart."
Startled, I clicked play:
My time travelling me left with this farewell. "LEARN FROM HIS MISTAKES! THE MONSTER INSIDE US ALL IS ONLY THE HINT OF A POSSIBILITY WITHIN YOUR HEART. YOU STILL HAVE TIME, MY FRIEND."
Well. I don't really think there's anything more to say.
As I go... this is for you, Tom:
We're back in the studio tomorrow! It's probably about time!